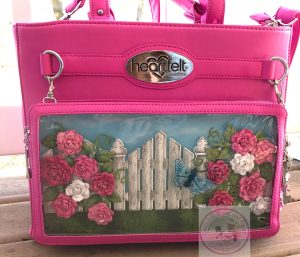 I finished decorating the pocket in the Art for the Heart Handbag I received for Christmas. I had been wanting it for a while. I even almost order it for myself in the fall, but Tina convinced me I didn't really need it. So I didn't think anything more about it.
Then right before Christmas, I found a large box on my table at Cafe Crop. I opened it up to find the purse. Tina proceeded to tell me she had had the purse hidden, and hoped I wouldn't find it. To say the least, I was definitely surprised.
It took me a little while to decide how I wanted to decorate the pocket.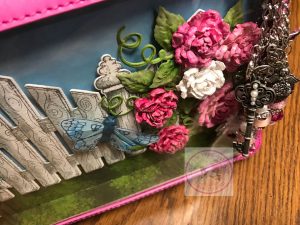 I used the Festive Gate Cling Stamp and Die for my background. I layered 3 gates to create a fence. I covered the fence with Classic Roses and Leaves shaped with the 3D Rose Shaping Mold. Then I added a little butterfly.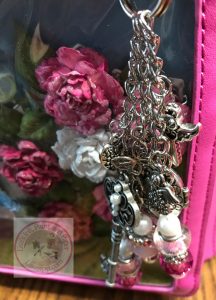 I also added a few sentimental charms to the purse. I just love how the purse turned out. It definitely is a conversation piece when I am out and about. Now I have a garden on the go.
There is still time to vote for the Heartfelt Creation's Design Team Semifinalist.
Here is a list of the Design Team Semifinalists:  Carole Wright, Cheryl Morgan, Cheryl Peterie, Darla Rants, Debbie Brownmiller, Di Garling, Eugenia Redmond, Joyce Erb, Judy Wallace, Lisa McGushion, Lutgart Van den Bergh, Pavitra Chanchal, Sarah Miller, Tracy Crane, Uma Didwania, Valeri Darling.
Heartfelt Creations would like to have you participate in the selection and vote your 5 favorite semifinalists (hopefully one of them would be me). Review each one of their blogs and then CLICK HERE to submit your vote. Voting ends on March 9th, 2018.