Back in May when I found out that Finnabair would be teaching at Cafe Crop, I decided to learn more about her style of mixed media.  I looked at Finnabair's blog and joined the Facebook group  Finnabair & Friends . I saw so many wonderful pieces of art and thought maybe I could create something to share.
I have had this clock base in my studio for several years with the plan to someday  decorate it for the studio. This just might be the perfect way to decorate it.  So I got started.  I attached items I found in my studio.  I had to keep the layers a simple in order for the hands of the clock to move.  Some of the items hold special meaning, others are just for fun. I love how the face came about. I added the circle and triangle paper clips because they were fun designs. They looked like a face so I added a mouth and a crown.   Then I added a layer of white gesso and started to add color, but couldn't decide where to go. So I put it away to work on later.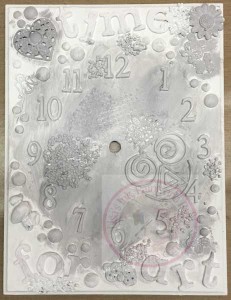 Now it is August and I am working on some NUTS (nagging unfinished tasks). So I took out the clock and got to work.  I added gelatos to the background blending them with my fingers.  Some of the colors were at little to bold so I brushed on a little white gesso. I highlighted the clock numbers with gold mica powder.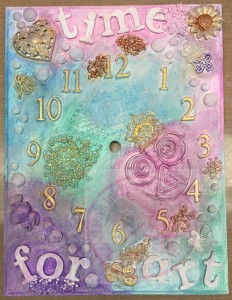 I liked how it is looking but it felt like it was missing something.  I went home and added the clock hands and that was all it needed.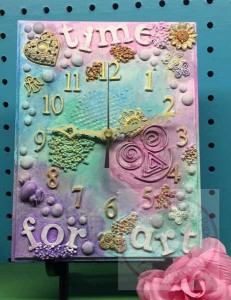 It looks perfect in the studio.