Everyone has seen Tim's new house dies.
Here is a version of the house I created for a December class at Cafe Crop located in Merrillville, Indiana.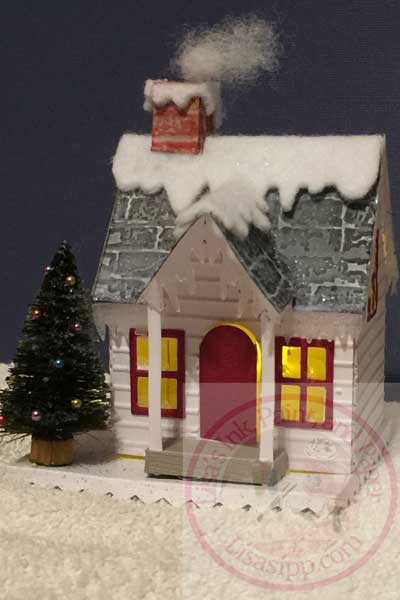 For the siding, I used the Notebook Texture Fade embossing folder.  I cut 2 sets of sides out.  On one set I cut off the tabs and cut the sides from the front/back.  I put the pieces in one at a time and lined the bottom up with the same line on the embossing folder. Then I added some ink highlights.  I used a similar procedure for the roof and the chimney with the Bricked Texture Fade embossing folder.
In February, I taught a class on building a church to add to our village.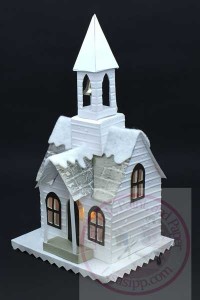 Tina and I attended a full day workshop in September with Tim Holtz.  We had so much fun, learned a lot, and came back excited to use all the new products we received.  We wanted to send a special thank you to all the sponsors.
I like to think outside the box with my dies and stamps..
….so here is the card we sent to Sizzix. Since they are located in California, I created a beach house complete with sand and shells.
I created a dimensional card by cutting the house on a diagonal and adding a few extra tabs to attach it to the card front.
I added screens in the windows to let the breeze in. Inside the house, we added Tim in the door and Mario in the window.
But wait till you see the card we created for Tim and Mario..
Here is our version of Starbucks.
I created a stencil with the Sizzix Decorative Strip Cobblestones Die for the brickwork. I used the Texture Fade Bricked embossing folder for the roof. The Starbucks logo is from a K-cup. I covered it with Glossy Accents.  The parking lot was created with the coffee grounds from that same K-cup.
Inside is an image of a Starbucks.
It's all in the details…