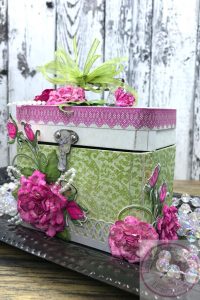 Yesterday was a super exciting day for me! I found out I am a semifinalist for the Heartfelt Creations Design Team.
Here is a list of the Design Team Semifinalists:  Carole Wright, Cheryl Morgan, Cheryl Peterie, Darla Rants, Debbie Brownmiller, Di Garling, Eugenia Redmond, Joyce Erb, Judy Wallace, Lisa McGushion, Lutgart Van den Bergh, Pavitra Chanchal, Sarah Miller, Tracy Crane, Uma Didwania, Valeri Darling.
Heartfelt Creations would like to have you participate in the selection and vote your 5 favorite semifinalists (hopefully one of them would be me). Review each one of their blogs and then CLICK HERE to submit your vote. Voting ends on March 9th, 2018.
I have been using Heartfelt Creations products to create cards and projects for classes each month for over a year at Cafe Crop in Merrillville, Indiana. I love sharing my love of creating flowers with our customers. It is so fun to hear them say when done, how easy it is to create the flowers.
Here are some pictures of the projects I submitted with my application.
This is a travel case ready to be filled with trinkets or chocolate.
A carnation card with baby's breath.
For the third project, I created a Lush Lilac Tunnel Card/Book with the 6″ x 6″ Layered Circle Card. I layered the card in reverse from smallest to largest.
For those in the Northwest Indiana area, I will be teaching this as a class on March 7th at 6 pm and March 8th at 11 am at Cafe Crop in Merrillville, Indiana.
Thanks for stopping by to check out my projects. Excited to get started on my next set of projects.