Today I am featured in the Designer Highlight on the Riley & Co Blog. I live in Northwest Indiana with my husband of 28 years. I have a daughter who is married to a Marine. I love all types of creative and crafty things as well as using my creativity to come up with ingenious solutions. I began scrapbooking when our daughter was born. I retired from teaching school a few years ago to focus on paper crafting. In addition to working at my local scrapbook store designing and teaching multiple classes each week. I now spend most of the time in my studio on cards and mixed media projects. I enjoy taking a stamped image and using colors and layers to turn it into a unique creation. As a teacher, it is satisfying to be able to share these techniques in class and inspire other paper crafters that they too can use stamps, dies and inks to create 3D items.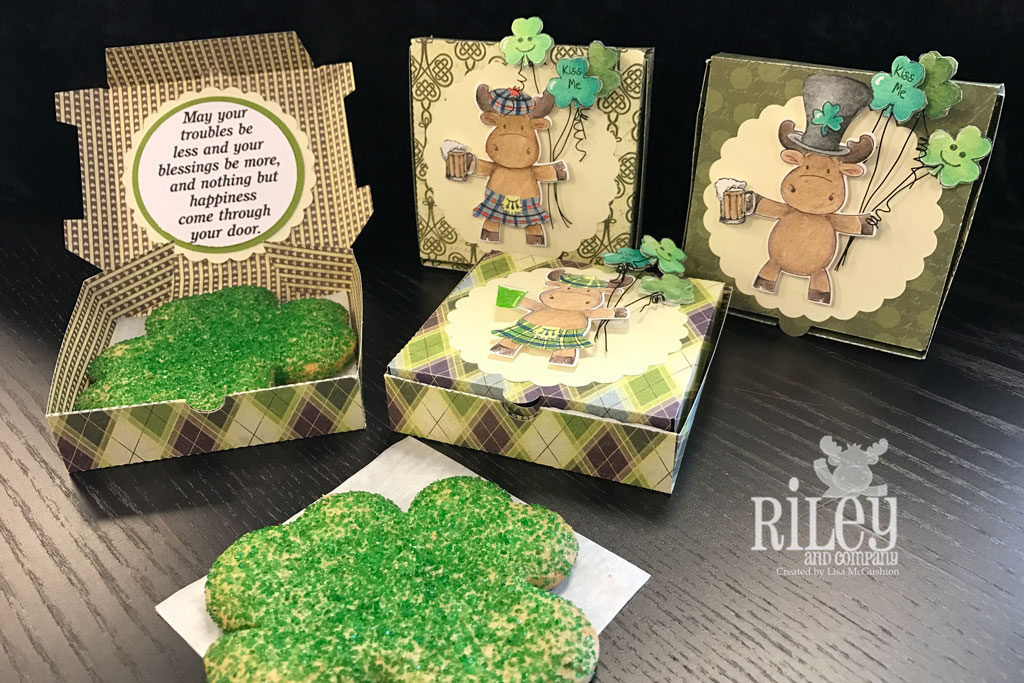 I used the new Dress Up Riley Stamps and Die to create a St. Patrick's Day Banner and Treat Boxes.  I also used the Clear Valentine/St. Patty's Accessories Stamps to dress Riley. Inside I used the May Your Troubles stamp.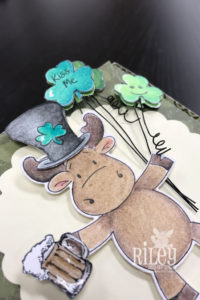 To create the balloons I used the shamrocks. I stamped some with Kiss Me and Smile from the Valentine/St. Patty's Accessories Set.  I used a thin wire to make the balloons "float" on their own. I attached the wire with a foam square between to shamrocks.  The ends I curled around the end of a paint brush.  I added glossy accent to the mug to create a glass look. Riley was then attached with foam squares.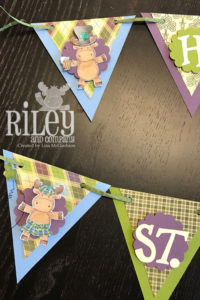 The banner also has Riley at the beginning and end of each bannner.
Here are some of my favorite cards and projects I have created for the Riley and Co. Design Team.
This shadow box uses the Mushroom Lane Snowman House.
I have to admit, the Mushroom Lane Stamps have to be my favorite. I love all the details in the stamps.  This card features House 3.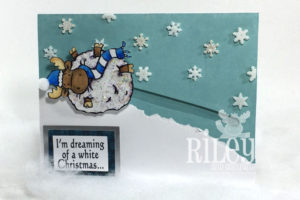 Here we see Snowball Riley heading down the hill. Click HERE to see the action.
Thanks for stopping by,
Lisa