Here are some of my projects I have finally had time to work on. These are cards created with Heartfelt Creations current release of the Butterfly Dreams Collection.
These cards were created for a class at Cafe Crop in Merrillville, IN.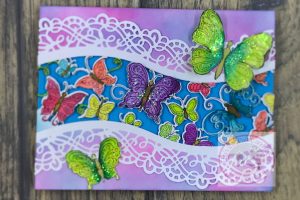 The background of the first card was created with Ranger's Distress Oxides. Then Color Bursts were used to paint the butterflies with clear glitter for that sparkle.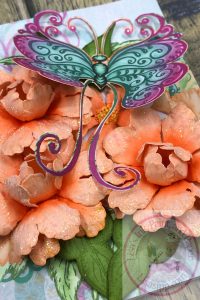 The second card the large butterfly was cut out using the matching die. I like how the dies are sized to match many of the images in the papers. A few large peach peonies were added to hide the blank space (left from cutting out the butterfly) and to provide a place for the butterfly to perch.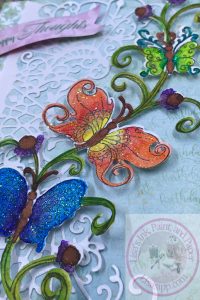 The last card uses the Decorative Medallion to create at trellis for the flowers to grow on and the butterflies to rest. These were so much fun to create.
Sorry I haven't posted in a while. It's been a crazy few months in my world. We have been busy getting our daughter moved to be with her husband, who just happens to be stationed in Hawaii. (Guess where we are planning our next vacation.) I have become a regular at the local post office. Then I needed to finish cleaning, sorting and putting things away. I think we have started to settle into a new normal. I still have a few boxes to ship.