When I sit down to design a card for myself or for a class, I let the paper to speak to me. Sometimes the paper yells at me and the card is done in no time. Most of the time the paper just talks nicely and I create with it.  But sometimes…. the paper whispers very, very quietly and I have to really listen and focus (or think outside the box).
.
I was working on creating a card with Heartfelt Creations "O Holy Night" Collection, but it wasn't speaking very to me (not even whispering).
I had just received some of the new Karen Burniston's Pop-up Dies. I have always been a fan of Karen Burniston's pop up dies. I have some of the first ones from Sizzix and some from Elizabeth Craft Designs. I must confess…. I think I have almost all of her newest dies.
Then I had a brilliant idea. Could I use the Frame Pull Pop-up with a 3″ x 4″ cut apart card? I didn't need to add anything to the width, but I would need to make it longer. I added a strip to the pull tab splicing it underneath.
Then I cut an A2 card base and a piece of patterned paper for the front. I positioned the mechanism to the patterned paper with staples.
Before going any farther, I stamped  a greeting on the inside of the card.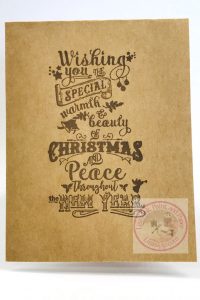 Then I attached the patterned paper to the front of the card. I added my 3″ x 4″ cut apart to the front of the frame and cut a piece 3″ x 3.5 for the inside top flaps (later I add a piece of sandpaper to the bottom flap for more texture).
I cut two tabs for the inside pop up feature and added my manger scene.
Last I added the poinsettias created with the Heartfelt Creations Poinsettias and Holly Clusters collection to the bottom of the card. I also add a piece of sandpaper to the bottom flap.
Thanks for stopping by today and hope you enjoyed my card.